*Day One results
*Day Two results
Michael Van Sickle becomes first amateur
to win back-to-back Open Championships
SPRING HOUSE, Pa.– Michael Van Sickle turned in a solid final-round performance on Wednesday at Old York Road CC (par 71, 6,558 yards) to become the first amateur in the 92-year history of the Robert L. Fryer Memorial Open Championship to repeat as champion. Van Sickle, who finished at 4-under-par 209 for the three days, is only the fourth player to accomplish the repeat feat and the first since John Weitzel of Hershey GC did so in 1955-56.
Ed Dudley of Concord CC (1929-30) and Steve Kovach of Ligonier CC (1946-47) are the other players to ever record Open Championship repeats.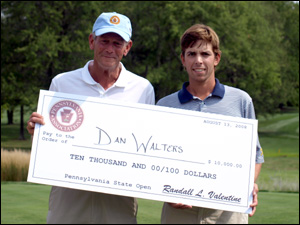 Dan Walters of Lancaster, Pa., (right) with
tournament sponsor Bob Fryer (left), finished
as the low professional.
"That's pretty cool," said the 21-year-old Van Sickle when told of his historic accomplishment. "I was hoping to just come out here and play well. I've never had a chance to defend the title of a big tournament like this one so it's really an exciting feeling for me to successfully do so."
Van Sickle, of Wexford, Pa., carded a final round 2-under-par 69. Amateurs Robert Galbreath, Jr., 17, of Huntingdon Valley, Pa., and Nathan Smith, 30, of Pittsburgh, Pa., tied for second at 3 under. Second-round leader Dan Walters, 24, a mini-tour professional from Lancaster, Pa., and T.J. Howe, a 20-year-old Penn State University red-shirt junior from Osceola, Pa., tied for fourth at 2 under. Walters collected the $10,000 top prize for being the low professional.
"That's a nice consolation prize," said Walters, who entered the day with a four-shot lead, of the check. "It's nice getting in the battle. I've never had a lead going into the final round of a professional tournament so there are definitely some things you are fighting against. There were some nerves and what not, but that's only human. I felt pretty comfortable, though, for the most part."
The leaderboard proved a popular destination by the time all had completed the first eight holes. Van Sickle (4-under), Walters (4-under), Howe (4-under), Smith (3-under), teaching pro Greg Pieczynski (3-under) of Kingston, Pa., and Galbreath (2-under), all had legitimate title hopes still alive.
Van Sickle, playing in the next to last group, then hit what appeared to be the decisive shot of the tournament on No. 9 (par 5, 555 yards). After ripping a driver and 265-yard rescue wood to 25 feet short of the hole, he drained the eagle putt to surge ahead. Standing at 6 under, Van Sickle, who is also the reigning State Amateur Champion, appeared uncatchable.
That was until disaster struck on the dog-leg left No. 12 (par 4, 354 yards).
Van Sickle, a member at Treesdale G&CC, knocked a gap wedge from 120 yards over, left his 15-yard flop shot short, caught a bad lie in the collar and eventually missed an eight-foot double-bogey chance. He finished the hole with a seven.
"I knew I was still in it," said Van Sickle, a senior at Marquette University. "You have to be mentally strong and keep telling yourself if you make some more birdies you'll be right back in it."
Howe and Pieczynski also stood at 3 under at this point.
A couple holes later, on No. 15 (par 5, 509 yards), Van Sickle demonstrated his mettle once again and regained the lead for good. After coming up just short of the putting surface in two, he chipped from the grass on top of the greenside bunker to three feet and made the birdie putt to move to 4 under.
Galbreath, who was two groups in front of Van Sickle, meanwhile, continuing a relentless march up the scoreboard. He birdied the tremendously difficult No. 16 (par 3, 202 yards) from 30 feet and then on No. 18 (par 4, 403 yards) watched his sand wedge from 95 yards clip the flagstick before stopping eight feet past the hole. He would sink the birdie putt and finish at 3 under.
Van Sickle still had two holes remaining with Galbreath already in, but two successive, solid pars later, he hit the clubhouse as the new leader at 4 under with only Smith left to fend off.
Smith, playing in the final group, birdied No. 17 (par 4, 411 yards) with a 7-iron from 165 yards to 12 feet to move to 3 under for the tournament and keep hope alive. However, that hope left as quickly as it burst onto the scene. Smith's tee ball on No. 18 went just a little right and in between the small cluster of trees in the landing zone. Needing to keep his next shot "low," Smith punched a wedge from 120 yards that landed in the back fringe and hopped off. His comeback chip dribbled past the cup and Van Sickle's coronation was official.
The Open was Groundhog Day all over again for Smith, who two weeks ago bogeyed the 18th at Saucon Valley CC in the State Amateur, to finish a shot behind Van Sickle for the title.
"Mike's a special player," said Smith, the 2003 U.S. Middle-Amateur Champion. "He's had a perfect year in the state. I played well. There is nothing I can look back and shake my head at. It seemed like it all evened out today. I just wanted a chance on the final hole, whether a chip back up the hill or some kind of putt for a birdie to tie him. And I had that."
Said Galbreath, a senior at Lower Moreland High School, "For me as a 17-year-old amateur to finish second in the State Open is great. Everybody who plays in this tournament has great accomplishments. Van Sickle is phenomenal. So is Nate Smith. I can't ask more from myself than shooting 3 under today."
Name, city, state

Rd 1

Rd 2

Rd 3

Total

Purse

(a) Mike Van Sickle, Wexford, PA

71

69

69

209

(a) Nathan Smith, Pittsburgh, PA

74

66

70

210

(a) Robert Galbreath, Jr., Huntingdon Valley, PA

73

69

68

210

Dan Walters, Lancaster, PA

68

68

75

211

$10,000

(a) Travis Howe, Osceola, PA

71

69

71

211

Gordon Vietmeier, Pittsburgh, PA

74

68

70

212

$4,666

Gregory Pieczynski, Kingston, PA

72

68

72

212

$4,666

Lewis Sturgeon, Pittsburgh, PA

72

70

70

212

$4,666

Chuck Scally, Jr., Moon Township, PA

68

75

71

214

$3,000

(a) Stephen Dressel, Malvern, PA

72

72

70

214

John Pillar, Sr., Hawley, PA

69

73

73

215

$2,450

Rich Steinmetz, Gilbertsville, PA

74

69

72

215

$2,450

Mark DiGiacomo, Lebanon, PA

73

70

73

216

$2,012

Roy Vucinich, Moon Twp, PA

72

72

72

216

$2,012

(a) Tyler Brewington, Orangeville, PA

71

71

74

216

Christian Bartolacci, Langhorne, PA

71

73

73

217

$1,545

Clint Deibert, Doylestown, PA

69

74

74

217

$1,545

(a) Daniel Obremski, Irwin, PA

74

69

74

217

(a) Daniel Charen, Langhorne, PA

73

72

72

217

(a) David DeNunzio, Jeannette, PA

69

71

77

217

Geoffrey Kelowitz, Jim Thorpe, PA

72

70

75

217

$1,545

(a) Nathan Sutherland, Wyomissing, PA

71

73

73

217

Stuart Ingraham, Harrisburg, PA

72

68

77

217

$1,545

Bob Ford, Oakmont, PA

72

72

74

218

$1,018

Brian Kelly, Lewisburg, PA

75

70

73

218

$1,018

Erik Bertrand, Pittsburgh, PA

74

69

75

218

$1,018

Kevin Shields, Pittsburgh, PA

72

70

76

218

$1,018

Travis Deibert, Doylestown, PA

70

74

74

218

$1,018

(a) Cole Willcox, Berwyn, PA

69

75

75

219

(a) Conrad Von Borsig, Swarthmore, PA

69

77

73

219

George Forster, Villanova, PA

73

73

73

219

$775

(a) Kyle Davis, Kennett Square, PA

70

73

76

219

(a) Mark Miller, Levittown, PA

74

69

76

219

Chris Gallagher, West Chester, PA

73

70

77

220

$695

(a) Christopher Schultz, Shillington, PA

76

69

75

220

Steve Cutler, Kennett Square, PA

73

70

77

220

$695

John Mazza, Beaver Falls, PA

75

71

75

221

$640

(a) Matthew Mattare, Bethlehem, PA

70

71

80

221

(a) Adam Cohan, Wayne, PA

74

70

79

223

(a) William Miller, Venetia, PA

71

75

77

223

(a) Rich Pruchnik, West Chester, PA

76

67

81

224

(a)-denotes amateur
[ Back ]